Design Objective:
To design a new water delivery boom for a local horse racing track. The boom requirements were to be lighter, and extend twice the distance of the existing system.
Solution:
A self-supporting aluminum boom that is compact when folded and is hydraulically controlled. It consists of two 23 foot sections (with a total weight of approx. 650 pounds), each capable of spraying water separately, or together. A third rigid pipe attached to the truck's rear chassis compliments the boom, and when activated, allows for a full 56 feet of continuous spray.
---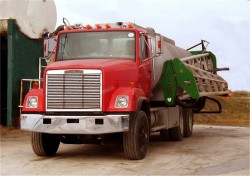 Performance Specifications
Water Pump: Monarch NH5M12P cast steel pump, 6" suction and 5" discharge. Rated 1000 gallons/min. at 100 pounds/sq. in.
Water Valves: Cla-Val cast iron 3" diaphragm valves. Air actuated on/off from truck cab. One valve for each section for independent flow control of rear section, first boom or second boom section.
Water Pump Drive: Sundstrand series 22 piston motor; axial mounted to the water pump casting.